Registration is Closed
Please check back and watch our social media accounts for future events.
Purl Together
Fall Retreat 2023
Join me in Ogden, UT
for our 5th annual knitting weekend
Sept 28th - Oct 1st, 2023
Knit With The Purls!
Registration is $495 for the entire weekend, and includes all workshops and events, a swag bag with all the knitterly goodness you'll love, a local yarn store party at Needlepoint Joint, and dinner Saturday evening.
Patrons receive a 20% discount!
If you'd like to become a patron before registering, please go to patreon.com/purltogether
Join the Patron Family
Support the Purl Together YouTube channel and community. Pledge an affordable amount each month and receive benefits including event discounts, invitations to knit nights, exclusive content and more!
Sign up as a Patron before registering for the retreat and you'll get 20% off your registration fee!
You'll meet the friendliest knitters!
KNIT TOGETHER!
You'll make lifelong friends with fellow knitters, eat great food and relax with a wonderful view of the Wasatch Mountains. Your registration fee includes:
Workshop sessions where you'll learn new sock knitting methods, how to improve your ability to "read your knitting", tips for using Knit Companion, Ravelry & Instagram.
Yarn Store Party
Casual supper together Saturday evening
A fabulous swag bag!
Our home for the weekend includes lovely suites, included breakfast, room service, on-site restaurant, indoor pool and bar. We have a special rate of only $129 per night just for our event if you book your room before Sept. 14th.
Click the button to go to the hotel website, choose your room type, then click the box for Special Rate. You'll find a place to enter the code PURL23
You can also call 1-877- STAY_HGI (1-877-782-9441) to make your reservation. Just make sure to give them our special code PURL23
RESERVE YOUR ROOM
Relax
We'll have plenty of time to relax and knit together. The hotel also has an on-site restaurant with room service, a pool, fitness center and spa.
New Techniques for Socks!
We'll work together to learn new sock techniques. You'll have the chance to compare notes, knit together, ask questions and learn from me, as well as one another. We'll practice on baby sized socks that you can use for gifts, or ornaments!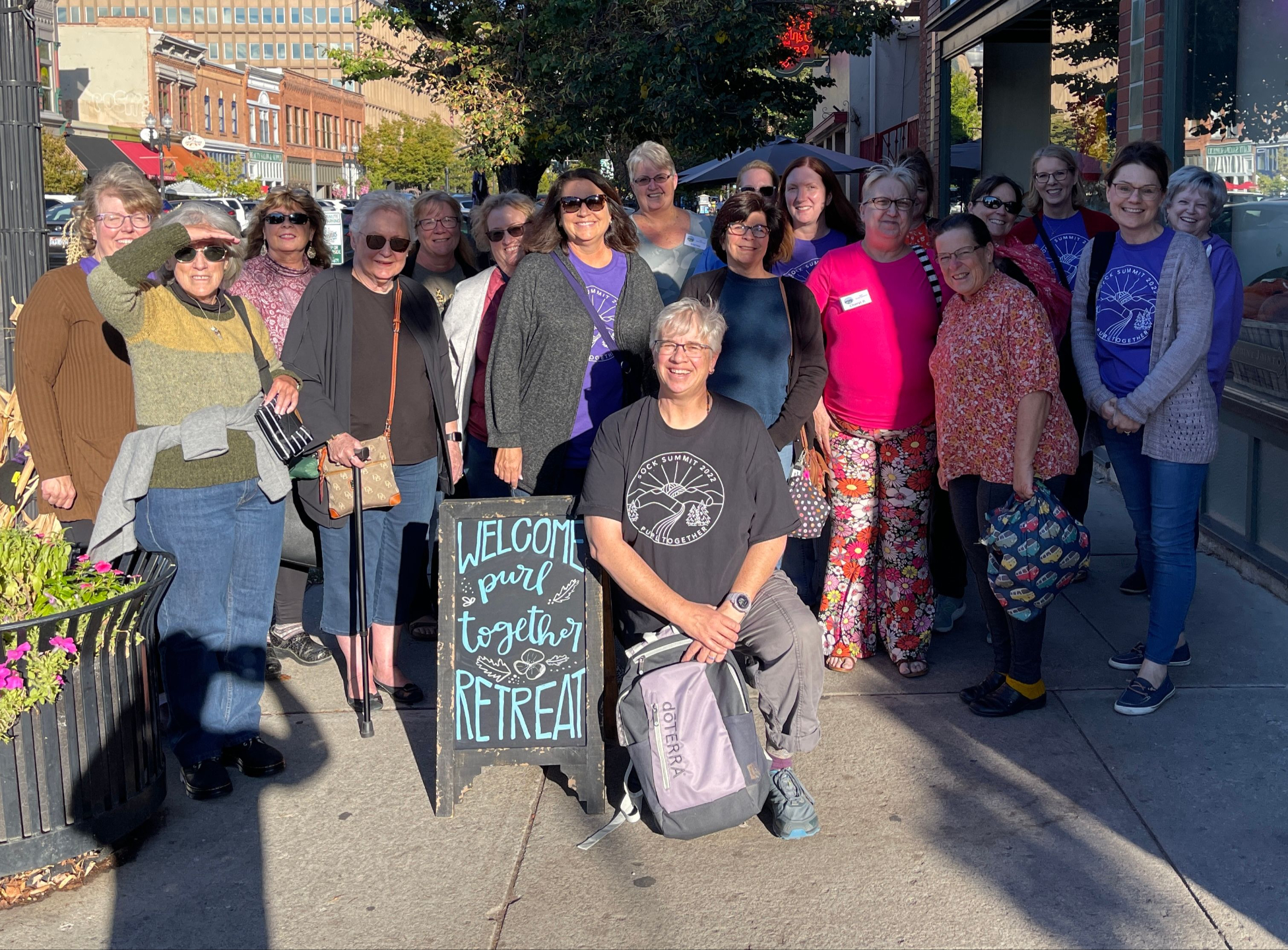 Yarn Store Party!
The Needlepoint Join will be open just for us! Personalized shopping and maybe a little wine and cheese. It's a lovely way to begin our retreat.
Ogden, UT
Conveniently located just 45 mins from Salt Lake City's airport, Ogden is home of some of the most gorgeous scenery in the Rocky Mountain West. No need to rent a car when you can take the train to Union Station in downtown Ogden, then ride the trolley right to our hotel. There is plenty to do here between knitting sessions! Hiking, fishing, botanical gardens, shopping, museums etc . Check it out HERE